Once I had my roof rack installed, I wanted to put a box up there to store stuff, but I also wanted to maximize the amount of solar panels I could install. My friend Cameron had the idea of putting the solar panel on top of the box.
I bought this Rhino Toolbox from Bunnings. It's 1200 x 550 x 310mm in Grey plastic. I was lucky enough to also find a solar panel online that matched these dimensions perfectly.
I bought some brackets and screws, and a bit of sealant putty and got to work.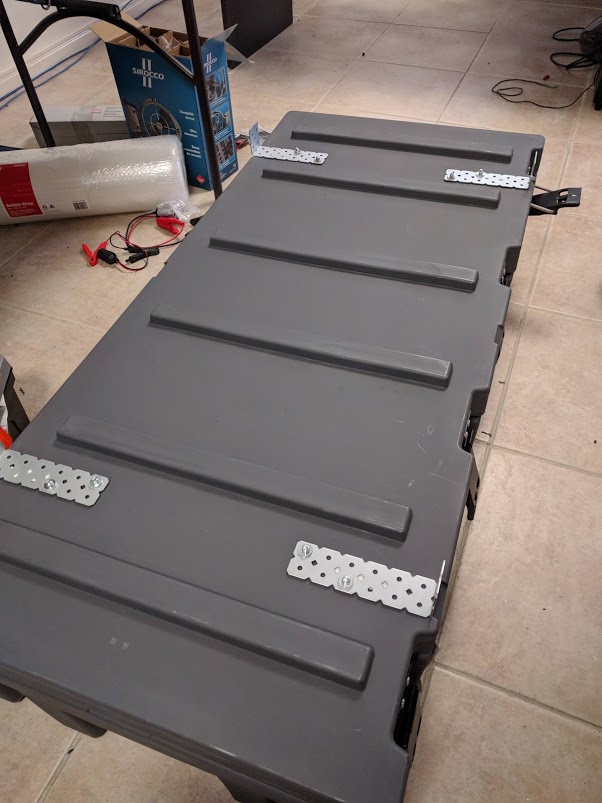 I affixed the brackets to the roof box, and drilled through the plastic. I used some big washers on the other side to spread the load across the plastic. I also applied some sealant putty to keep water out.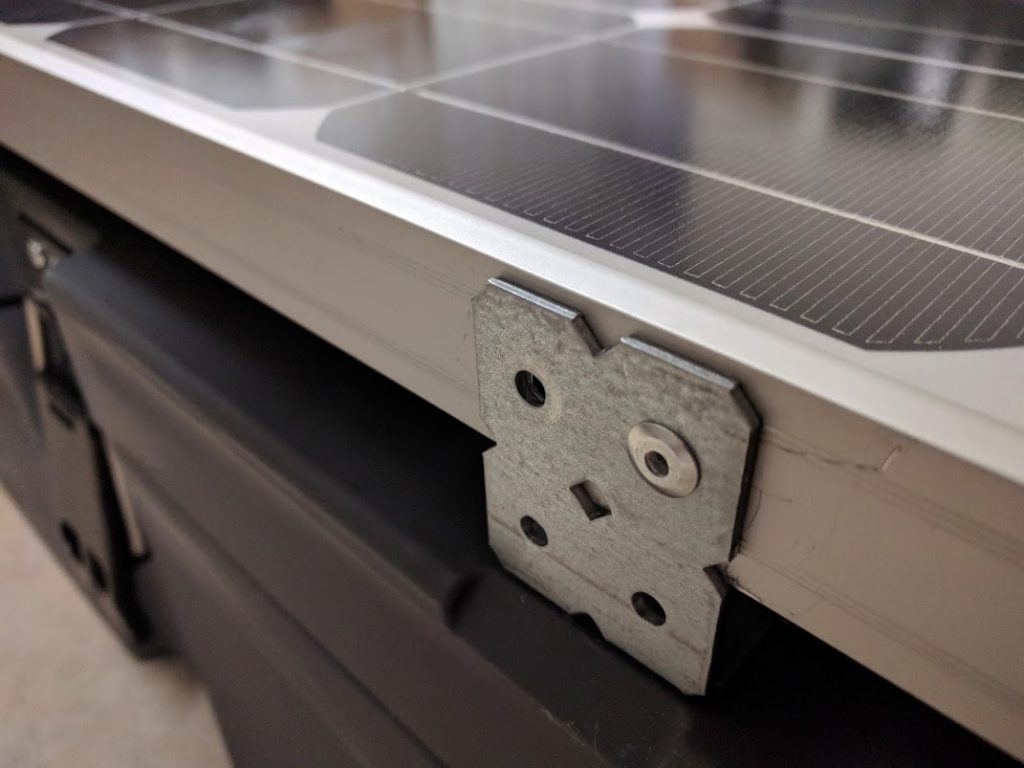 Then I installed the solar panel using a hand rivet gun. Never used one of those before, wow you need some hand strength! I left a gap between the box and the panel to allow for air cooling.
The finished product! I think it looks sweet:
I mounted it on the roof of the Delica, on the drivers side. This way I'll still be able to access it even if I have the awning out.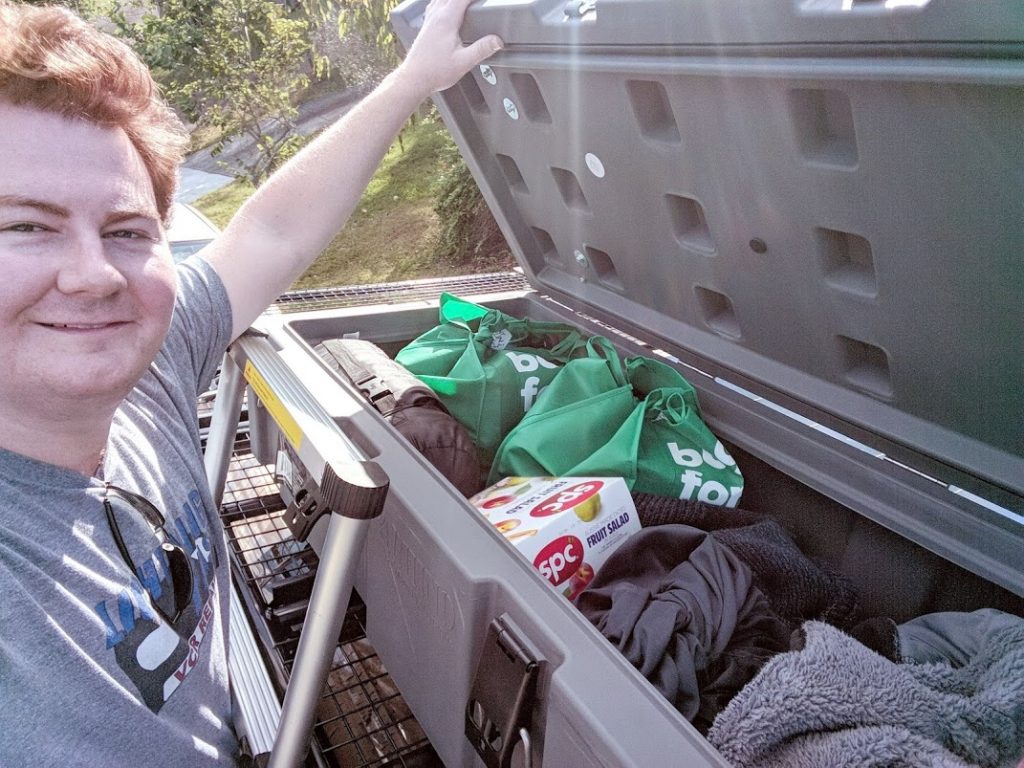 I bought a cheap extendable ladder from eBay, which I stash behind the fridge when I'm not using it.
I also installed a second panel next to it. Each panel is 160w each.
I chopped off the included connectors and replaced them with my trusty XT60's, as well as made a connector so they would run in parallel. I ran the cabling down the rack and through the edge of the driver's door.
Lastly I installed a cheap solar charger from eBay. It worked alright, but didn't get the full potential of the panels. so I later replaced it with a CTEK. More info on this in a future post 🙂
Tamara and I did a trip to Byron Bay, and it was great having everything stocked in the roof box, so we didn't have to go shopping. The solar panels worked well, they offset the fridge so I didn't have to charge the batteries once on the whole trip.
I did my first bit of beach driving – the Delica ate it up. I let the tyres down, but in hindsight I didn't have to.
I took the Inspire 2 and got a great photo of the van on the beach. We didn't have the awning out as it was pretty windy.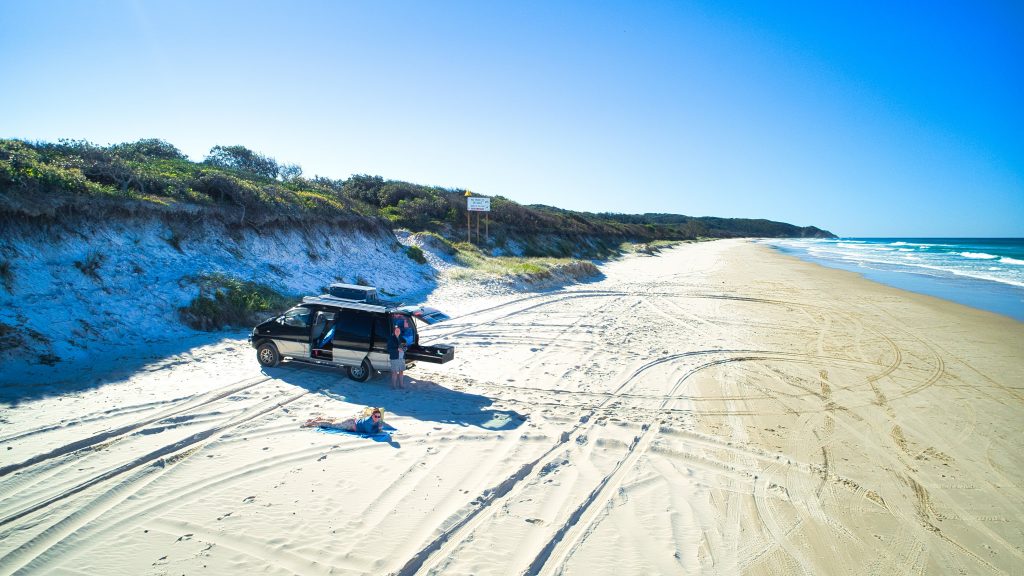 I feel like its starting to look like a proper adventure machine!